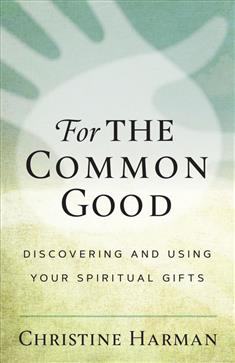 Beginning Sept 13.  Read Chapter 1 by September 20. 
This study will be held in person at Amity UMC (825 Estes Drive, Chapel Hill) 
 in the Fellowship Hall.
"For the Common Good reminds us that the Holy Spirit gives each Christian one or more spiritual gifts to be used for the common good. It guides readers to discover their own particular gifts and learn to use their gifts to serve others.
Examining key passages in Paul's writings, author Christine Harman leads readers through a personal spiritual gift assessment. She names 20 distinct spiritual gifts—including discernment, compassion, and evangelism—and helps people explore scripture references on each one. After identifying their particular gifts, clergy and laypeople will learn how to apply them for the good of their church, community, and the world."