Empowering and Enabling Through Transition

In July 2018, after two years of thoughtful planning, University UMC transitioned to a new organizational leadership structure.  This new structure enables members to more effectively answer their own call to ministry.  Four Commissions now lead teams and committees in work areas, service and ministry, working in partnership with clergy and program staff. 
Church members are asked to consider how their passions, skills, and interests might interface with the opportunities at University UMC and are encouraged to participate in one of the ministry teams. For questions or more information, including how to get involved, contact Lay Leadership.
The new structure includes the following Four Commissions. Click the respective Commission for more information on Teams and Committees within that area.
Discipleship & Nurture Commission
Children's Programs & Special Events Team
Children's Spiritual Formation Team
Youth Team
Higher Ed/College Ministry Team
Young Adults Team
Senior Adults Team
Health Ministries Team
Spiritual Resource Center Team
Worship Team
Music Team
Greeting Team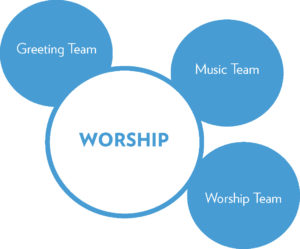 Missions Team
Hospitality Team
Evangelism Team
Administration Commission
Includes three subgroups:
Church Council
Discipline Committees (Four Committees)
Teams (Five Teams)
The four Discipline Committees are:
Finance
Lay Leadership
Staff Parish Relations Committee (SPRC)
Trustees
The five Teams are:
Trustee Investments Team
Endowments & Special Gifts Team
Stewardship Team
Records & History Team
Communications Team