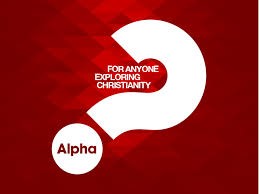 What is Alpha? Alpha is a series of sessions exploring the Christian faith, typically run over eleven weeks. Each talk looks at a different question around faith and is designed to create conversation. Our time together will be crafted around two activities: the Alpha talks and group discussion.   
The Alpha talks are designed to engage people from all walks of life and inspire conversation. They explore the big issues of life and faith and unpack the basics of Christian belief, addressing questions like "Who is Jesus?", "Why and how do I pray?" and "How does God guide us?" 
 The group discussion is an opportunity for people to respond to the talk, hear from others, and contribute their own perspective in an honest, friendly, and open environment.  
The course meets on Sundays, June 7 – August 16 on Zoom. Sessions will be offered at two different times: 11 a.m. – noon (right after worship) or 7 – 8 p.m. 
 Please email Pastor Creighton for more information or to sign up for either group.  If you are unfamiliar with Zoom (an online resource for connecting with others virtually), click  here  for more information.