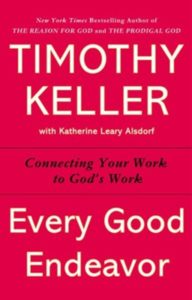 Every Good Endeavor
" Whatever you do, do it from the heart for the Lord and not for people." 
-Colossians 3:23 (CEB)
Description
This study will consider pressing questions as:
 What is the purpose of work?

 How can I find meaning and serve customers in a cutthroat, bottom-line-oriented workplace?
 How can I use my skills in a vocation that has meaning and purpose?
 Can I stay true to my values and still advance in my field?
 How do I make the difficult choices that must be made in the course of a successful career?
Meeting Details
The group will be led by Pastor Justin and will meet Mondays from 8:30-9:30 p.m. via Zoom, starting January 11.  Click here for more information and the group schedule.  To participate in the group, please email Sharon Smith to sign up. If you are unfamiliar with Zoom (an online resource for connecting with others virtually), click  here  for more information
Reading Material
Every Good Endeavor: Connecting Your Work to God's Work, by Timothy Keller.