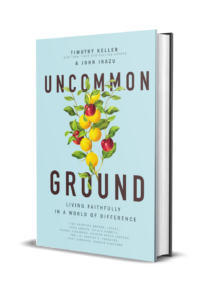 In this small group we will consider how Christians can interact with those whose beliefs may radically differ from their own in such a way that shows respect and remains faithful to Christian understandings of the gospel. Along the way, we will discuss how our own experiences with God and others have shaped the way we understand what it means to live out the gospel in every day life. We will use the book Uncommon Ground: Living Faithfully in a World of Difference, by Timothy Keller & John Inazu as our text.    
From the Publisher: "Bestselling author Timothy Keller and legal scholar John Inazu bring together a thrilling range of artists, thinkers, and leaders to provide a guide to faithful living in a pluralistic, fractured world." Click here for a video introduction to the book.   
 The group will be led by Pastor Justin and will meet Mondays from 8:30-9:30 p.m. via Zoom, starting June 1.  Click here for more information and the group schedule.  To participate in the group, please email Sharon Smith to sign up. If you are unfamiliar with Zoom (an online resource for connecting with others virtually), click  here  for more information.